Lettings
Tetherdown School is committed to providing an excellent education to young people in our community and we will seek to do this through the best use of our resources.
The Governing Body regards the school buildings and grounds as a community asset and will make every effort to enable them to be available for the delivery of extended services including community and commercial use.
Facilities
Children's Birthday Parties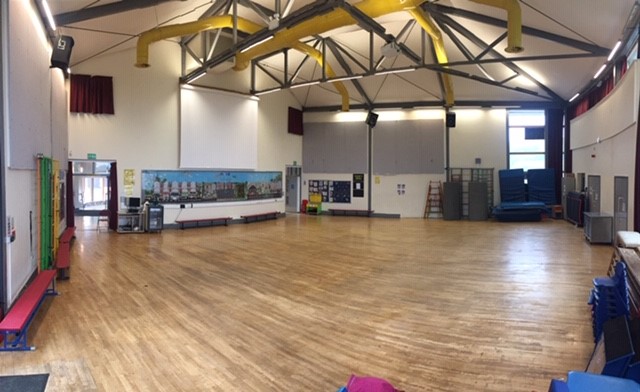 We invite all parents of our school community, exclusively, to hire our hall for family functions during term time. If you are looking to host a birthday party, football party, or a disco party, we have a great hall available. Chairs and tables can also be provided.
If you are not a member of our school community please contact the school office to enquire about hiring our facilities at admin@tetherdownschool.org.
There will be a member of staff on site to help you with your booking no matter how big or small.
Hire Rates, Days and Times
Hire Rates as of 1st September 2023
| Facility | Term Time Weekday Community Rate |
| --- | --- |
| Hall for Birthday Parties | £180 for 3hrs including set up and clean up time by hirer (Sunday afternoon only). Deposit required of £80. All party refuse must be removed by the hirer. |
| Hall | £48 per hour or any part of an hour |
| Classroom/Room | £36 per hour or any part of an hour (enquire in school) |
| Lower Playground | £36 per hour or any part of an hour |
| Upper Playground | £36 per hour or any part of an hour |
Facility hire is subject to availability and timetabling. All lettings are subject to an additional £15 administration fee per booking application.
Community Adverts (e.g. current club providers): If you would like the school to advertise on your behalf such as for an extracurricular club you run at Tetherdown we charge £25 per advert which will appear on the school website for 1 term.
External Adverts (non-school related): £50 per advert emailed to the Tetherdown Community at the schools' discretion after review.
Days and Times
Monday to Friday - Lunchtime Clubs and 3:30pm - 7:30pm.
Birthday Parties - Sunday only from 1:30pm - 4:30pm inclusive.
Additional Information
Commercial Hire: Please contact the school office for further information by emailing admin@tetherdownschool.org.

​​​Get in Touch and let us help you take the stress out of organising your event.
We can supply tables, chairs, an urn and staging if required.